SHIPPING WORLDWIDE  
Returns>> Fast refund,100% Money Back Guarantee.
😍 99.4% Of Customers Buy 2 Or More. 😍
Notice: If you can't pay by Credit/Debit Card, please pay with PayPal.
5-IN-1 BRUSH PROVIDES DEEP CLEANSING & ULTIMATE RELAXATION!
RelaxRefresh™️ deeply beautifies your body, relieves your stress with soothing massages, and cleanses oil, dirt, and exfoliating dead skin away—all in the comfort of your home!
Pamper yourself with a calming spa experience!
5 Replaceable Brush Heads
RelaxRefresh™️ meets all your cleaning and massage needs:
Foaming Brush Head - Foams up with soft and comfortable bristles for advanced cleaning and removal of dead skin cells
Pumice Sponge - Softens calluses, dry and rough skin
Massage Brush Head - Soothes sore and tired muscles and promotes good blood circulation
Mesh Sponge Head - Gently exfoliates skin and removes dirt from pores
Microdermabrasion - Removes fine lines, dark spots, and wrinkles to keep skin looking 

clean, clear, and youthful
360° Rotation
RelaxRefresh™️ thoroughly cleanses your body and removes aging keratin to easily & effectively promote younger, healthier skin.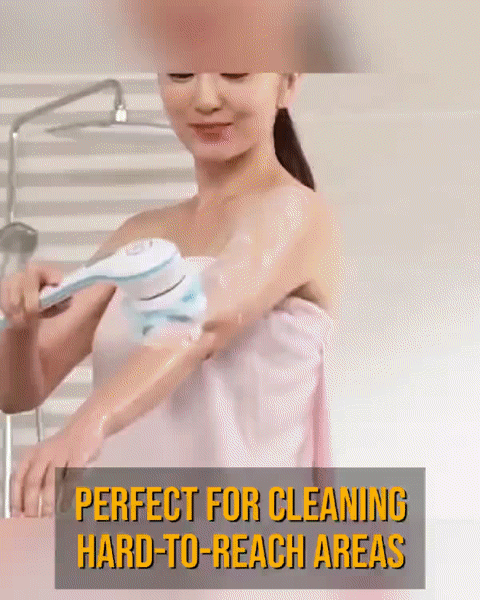 Relax and rejuvenate your body to get clear, glowing skin!
Promotes Health 
With deep relaxing massages, RelaxRefresh™️ helps relieve tension, relax muscles and calm the mind. Let go of your stress, worries, and aches.
Even better, it's so easy to store: just hang it on your wall after use to save space and easily reuse every day!
"Can't ever be without this! Feels so clean when I can give my back a good scrub!! Everyone needs this, I recommended this to all my friends!"
Why choose RelaxRefresh™️ Spin Spa Body Brush with 5 Attachments?
Turns your home into a relaxing spa
5 replaceable heads meet all your cleansing & relaxing needs
Makes skin look younger and healthier
Removes oil, dirt, and dead skin
Softens, exfoliates, clears, and cleanses the skin
Soothes sore and tired muscles
Promotes overall body health
Cleans hard-to-reach areas
Saves space in the bathroom
Easy to use: battery-powered with no installation
PACKAGE INCLUDES
1 x RelaxRefresh™️ Spin Spa Body Brush with 5 Attachments